'Bad Medicine' – the practice of causing harm while claiming to heal, or to protect people's health
"We're Doing This For You"
Back in the days of Al Capone, small store keepers and factory owners used to pay the Mob 'protection money,' so they wouldn't come into work one day, only to find their business premises mysteriously burnt to the ground. A 'protection racket' was the inducement to pay the Mafia so the Mafia wouldn't put you out of business. Protection rackets are, of course, illegal – unless it happens to be the government running them, in which case, it's perfectly above board.
In our local pharmacy, there's a sign hanging above the counter which explains that the CCTV camera, from which it hangs, is there for our protection. The customers occasionally make jokes about how we're all being 'protected' by the camera which, the pharmacy's staff agree, is there more for the pharmacy's protection than ours.
When a small store 'lies' in an obvious way, we don't really mind. After all, the pharmacy is entitled to protect its goods from people who might be inclined to steal them. On the other hand, it's less amusing when it's a government that lies, on a vast scale, in a way that's designed both to obtain money under false pretences and disadvantage the very people it claims to be protecting.
Herbal Remedies Banned From May 1 2011 For Our "Protection"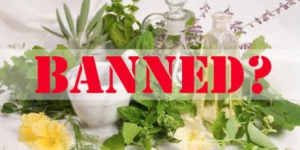 On May 1 2011, hundreds of herbs and herbal remedies, safely used for thousands of years, will be banned from sale, over the counter, in Europe. This new legislation, European governments say, is to 'protect' the public. However, this claim is transparently false, as was the Mob's in times past. Well over 40,000 people die from medical drugs, in the UK alone each year – a conservative estimate. Continue reading →